Looking for a delicious and easy-to-make Chicken Burrito Recipe to satisfy your cravings? Look no further!
Our Chicken Burrito Recipe is made with fresh ingredients, a blend of spices, and optional toppings to suit your taste. Whether you're celebrating National Burrito Day or simply in the mood for a hearty meal, this recipe is sure to hit the spot. Follow our simple steps and enjoy a mouth-watering chicken burrito in no time!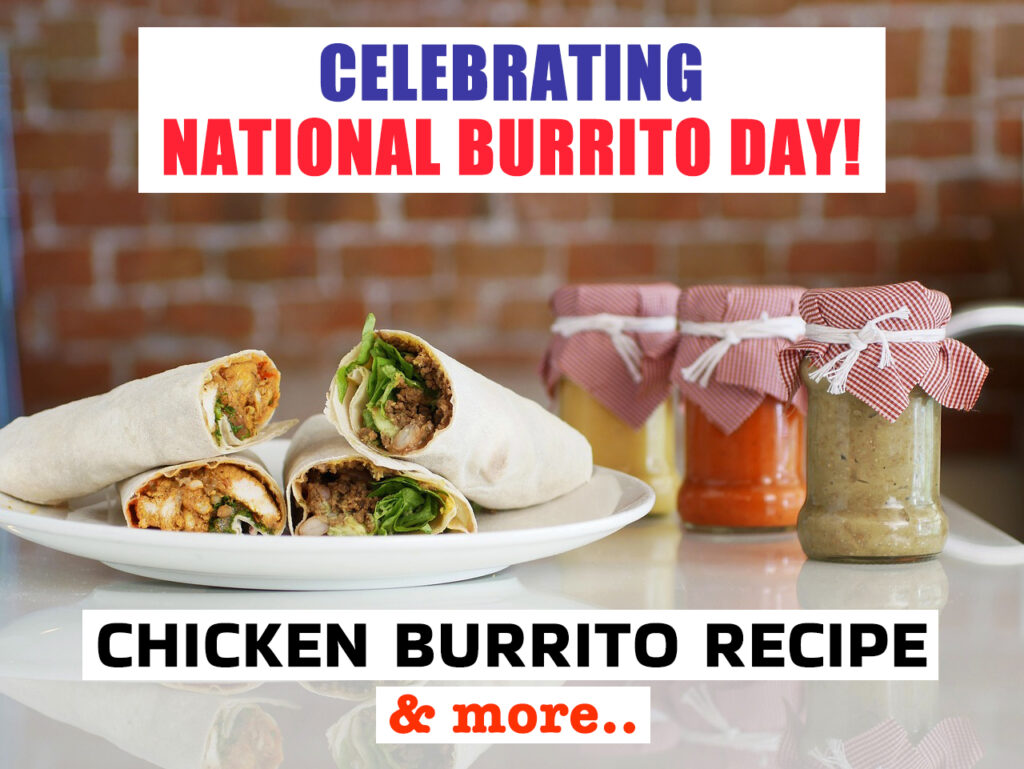 Ingredients:
1 lb. boneless, skinless chicken breasts
1 tbsp. olive oil
1 onion, diced
2 cloves garlic, minced
1 red bell pepper, diced
1 jalapeño pepper, seeded and minced
1 tsp. ground cumin
1 tsp. chili powder
Salt and pepper, to taste
1 cup cooked rice
1 cup shredded cheddar cheese
8 flour tortillas
Optional toppings: salsa, guacamole, sour cream, chopped cilantro, chopped tomatoes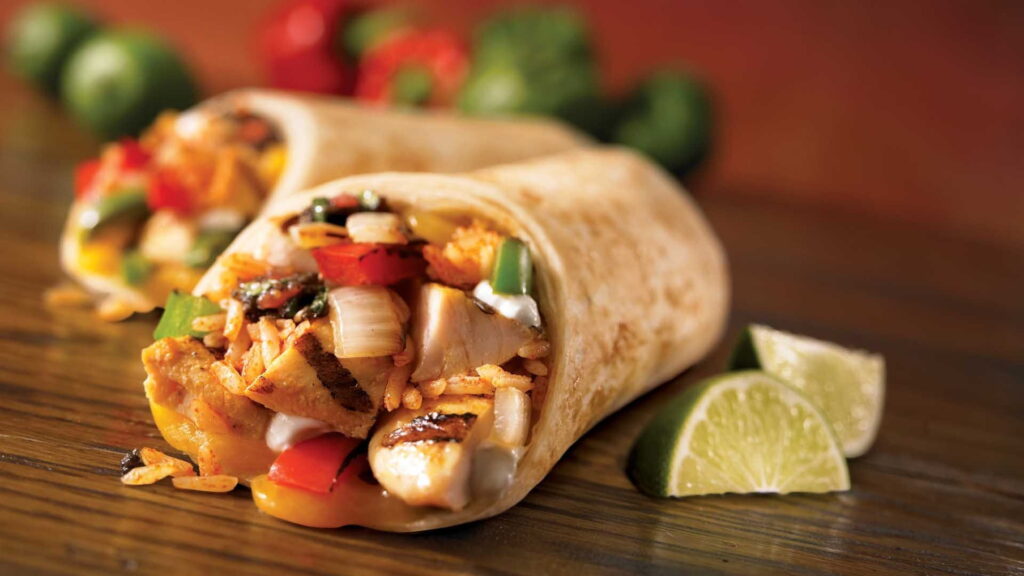 Chicken Burrito Recipe
Preheat the oven to 375°F.
Over a medium-high heat, Heat the olive oil in a large skillet . Add the onion, garlic, red bell pepper, and jalapeño pepper. Cook for 5-7 minutes, or until the vegetables are tender.
Add the chicken breasts to the skillet and cook for 5-7 minutes per side, or until cooked through.
Remove the chicken from the skillet and let it cool for a few minutes. Once it's cool enough to handle, shred the chicken with a fork.
Add the cumin, chili powder, salt, and pepper to the skillet. Stir to combine and cook for 1-2 minutes, or until fragrant.
Add the shredded chicken and cooked rice to the skillet. Stir to combine and cook for an additional 2-3 minutes, or until heated through.
Assemble the burritos: Lay out a tortilla and spoon some of the chicken and rice mixture onto the center. Top with shredded cheese and any optional toppings you like. Fold the sides of the tortilla inwards, then roll up tightly from the bottom.
Place the burritos in a baking dish and bake for 10-12 minutes, or until the cheese is melted and bubbly.
Serve and enjoy: Serve the chicken burritos hot, topped with additional toppings if desired.
Chicken burritos are a classic dish that can be enjoyed by anyone. By using fresh ingredients and a blend of spices, you can create a mouth-watering burrito that's perfect for National Burrito Day. So why not try this recipe out and celebrate with a delicious chicken burrito today!
You can also try Grilled Chicken Burrito, Chipotle Chicken Burrito, Fajita Burrito, Shredded Chicken Burrito Look forward for our Chicken Burrito Bowl Recipe Next!
Check out our other Recipes:
---
10 Keto Recipes for Weight Loss: Enjoy Delicious Meals and Reach Your Goals- https://sundaymania.com/10-keto-recipes-for-weight-loss/
10 Easy and Healthy Mediterranean Diet Recipes for Any Meal- https://sundaymania.com/healthy-mediterranean-diet-recipes/
Healthy and Tasty Smoothies for Your Weight Loss Journey: 10 Recipes to Try Now – https://sundaymania.com/healthy-and-tasty-smoothies-for-your-weight-loss-journey-10-recipes-to-try-now/
FAQs
Q. What day is National burrito Day?
Ans. National Burrito Day is observed on the first Thursday of April every year. In 2023, National Burrito Day will be on April 6th.
Q. Where was the burrito invented?
Ans. It is believed to have originated in Mexico, likely in the northern state of Chihuahua or in Ciudad Juarez, which is located just across the border from El Paso, Texas.
Q. What does a chicken burrito contain?
Ans. Chicken burrito typically contains flour tortilla, seasoned chicken, rice, beans, cheese, salsa, and sometimes additional toppings such as lettuce, sour cream, guacamole, or jalapeños. The specific ingredients and flavors can vary depending on the recipe or the preferences of the person making or ordering the burrito. Some chicken burritos may also include other ingredients such as onions, peppers, or corn.
Q. What does chicken burrito means?
Ans. The word "burrito" actually means "little donkey" in Spanish, the name was inspired by the shape of the rolled-up tortilla, which resembled the packs that donkeys would carry.
Q. Is burrito a snack or a meal?
Ans. In general, burritos are considered a meal because they are often quite large and filling, and they provide a balanced mix of carbohydrates, protein, and other nutrients. However, smaller burritos or those made with lighter ingredients are considered snack.
Q. What flour is burrito made of?
Burritos are typically made with wheat flour tortillas, which are a type of flatbread made from wheat flour, water, salt, and sometimes fat (such as lard or vegetable shortening).
Q. Why is Chipotle so famous?
Ans. The reasons why Chipotle has become so famous and successful are:
Fresh and high-quality ingredients: Chipotle uses high-quality, fresh ingredients that are prepared on-site each day.
Customizable menu: Chipotle offers a wide variety of customizable menu items, allowing customers to create their own burritos, bowls, tacos, and salads with their choice of ingredients.
Sustainability and ethical practices: Chipotle has made a commitment to using sustainably sourced ingredients and to supporting ethical farming practices.
We are sorry that this post was not useful for you!
Let us improve this post!
Tell us how we can improve this post?