National Burrito Day, 6th of April is round the corner, and it's time to celebrate one of the most beloved dishes in Mexican cuisine. Whether you prefer breakfast burritos, veggie or meaty burritos, there's no denying that this dish is a favorite among many.
In this blog post, we'll take a closer look at the origins of National Burrito Day. We will share some fun facts about burritos, and give you some great ideas for how to celebrate.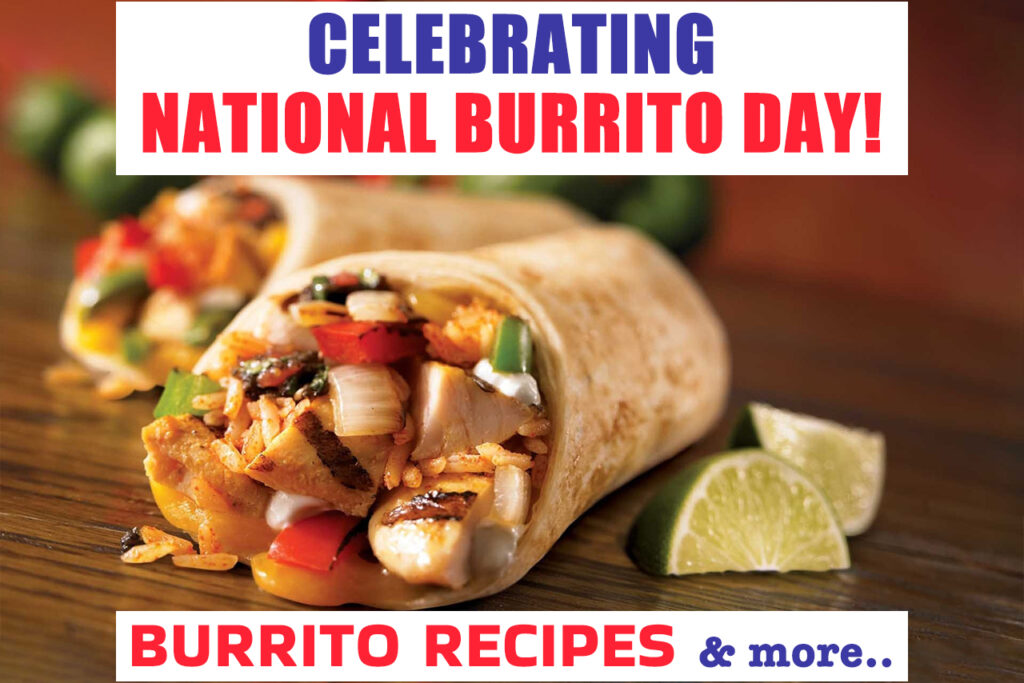 The History of National Burrito Day:
National Burrito Day has been celebrated in the US since 2016, although its exact origins are unclear. Some people believe that Mexican restaurants in California started the holiday, while others think it was created by social media users looking for an excuse to eat more burritos. Whatever the case, National Burrito Day has become a popular holiday, with many restaurants and food chains offering special deals and promotions to celebrate.
Fun Facts about Burritos
The word "burrito" means "little donkey" in Spanish. It is believed that the dish was named after its resemblance to a rolled-up donkey pack.
Burritos originated in northern Mexico in the late 19th century, where they were popular among miners who needed a portable and filling meal.
The largest burrito ever made weighed over 5,000 pounds and measured 70 feet long.
In 2010, a man in California set a world record by eating 47 burritos in 10 minutes.
The most expensive burrito in the world costs $25,000 and is filled with Kobe beef, lobster, black truffle, and caviar.
How to Celebrate National Burrito Day
If you're a burrito fan, there are plenty of ways to celebrate. Here are some ideas:
Get Creative in kitchen. Make your own burritos at home. You can experiment with different fillings, spices, and toppings to create a burrito that's uniquely yours.
Try a new burrito recipe. If you're in the mood for something different, look for a new burrito recipe to try. Whether it's a breakfast burrito, a seafood burrito, or a vegetarian option, there's no shortage of tasty recipes online.
Support local restaurants. Many Mexican restaurants are offering special deals and promotions, so why not visit your local spot and treat yourself to a delicious meal?
Host a burrito party. If you're feeling festive, why not host a burrito party with your friends and family? Set up a DIY burrito bar with all your favorite toppings and fillings and let everyone create their own unique burrito.
No matter how you choose to celebrate this Day, make sure to savor every bite of this delicious dish.
Check out Delicious Burrito Recipes:
Chicken Burrito Recipe: A Perfect meal for National Burrito Day – Try it Now!
Chipotle Deal!
Chipotle is letting burrito lovers get a head start on Wednesday giving away 20,000 burritos through Grubhub. Chipotle is giving away 10,000 burritos to customers on April 6. Lookout for the deal codes in their twitter account.
Today's Super Deals
Freebirds World Burrito, is offering $6 burritos to celerate the holiday.
Taco Bell is offering a free Grilled Cheese Burrito on spending $20+ through the app
El Pollo Loco is offering buy-one-get-one deal for their rewards program customers.
Moe's Southwest Grill, is offering buy-one-get-one deal on Thursday.
Rubio's Coastal Grill, is offering all burritos for $7.99.
FAQs
Q. What day is National burrito Day?
National Burrito Day will be on Thursday, April 6th
Q. Where was the burrito invented?
The exact origin of the burrito is not known, but it is believed to have been invented in Mexico
Q. Who invented the frozen burrito?
In 1956, Duane R. Roberts invented the frozen burrito
Q. What is burrito meat called?
Carne Asada, it is a popular type of burrito meat that is commonly used in Mexican cuisine.
We are sorry that this post was not useful for you!
Let us improve this post!
Tell us how we can improve this post?