May is Mental Health Awareness Month, a time to raise awareness about the importance of mental health and encourage people to prioritize their mental well-being. Mental health is a crucial aspect of our overall health and well-being, and it affects every aspect of our lives, from our relationships and work to our physical health and overall happiness.
In this post, we will discuss the importance of mental health awareness, the impact of mental health on our daily lives, and some practical tips for maintaining good mental health.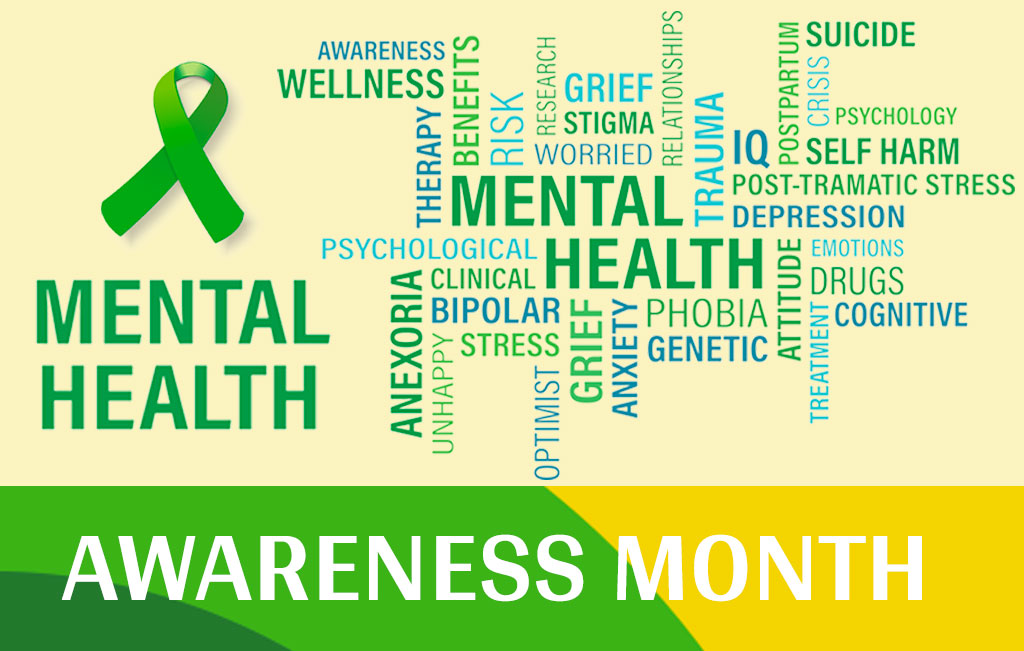 Mental Health Awareness Month: The Importance
It is important for several reasons. Firstly, it helps to reduce the stigma associated with mental illness. There is still a lot of stigma surrounding mental illness, and this can prevent people from seeking help when they need it. By raising awareness and promoting a more open dialogue about mental health, we can help to break down these barriers and make it easier for people to access the help and support they need.
Secondly, mental health awareness can help to prevent mental illness from developing or getting worse. When we understand the risk factors and warning signs of mental illness, we are better able to recognize when we or someone we know may need help. This can lead to earlier intervention and treatment, which can improve outcomes and prevent more serious problems from developing.
Finally, mental health awareness can help to promote good mental health practices and behaviors. When we are aware of the importance of mental health, we are more likely to prioritize it and take steps to maintain good mental health. This can include things like stress management, self-care, and seeking support when needed.
The Impact
Mental health has a significant impact on our daily lives. When we are struggling with our mental health, it can affect our relationships, work, and overall quality of life. Mental health issues can also have physical symptoms, such as headaches, fatigue, and changes in appetite or sleep patterns.
Some Common Mental Health Issues Include:
Anxiety
Anxiety is a normal response to stress, but it can become a problem when it interferes with our daily lives. Symptoms of anxiety can include excessive worry, restlessness, irritability, and physical symptoms like rapid heartbeat or sweating.
Depression
Depression is a mood disorder characterized by persistent feelings of sadness or loss of interest in activities. Symptoms include low mood, loss of interest in activities, and changes in appetite or sleep patterns. A person may also develop feelings of worthlessness or guilt.
Bipolar disorder
Bipolar disorder is a mood disorder characterized by episodes of mania and depression. Symptoms of mania can include elevated mood, racing thoughts, and impulsive behavior. While symptoms of depression can include low mood, loss of interest in activities, and changes in appetite or sleep patterns.
Schizophrenia
Schizophrenia is a serious mental illness characterized by a range of symptoms, including hallucinations, delusions, and disordered thinking. It can affect a person's ability to think clearly, communicate effectively, and manage emotions.
Eating disorders
Eating disorders are a group of mental illnesses characterized by unhealthy eating habits and distorted body image. Examples of eating disorders include anorexia nervosa, bulimia nervosa, and binge-eating disorder.
This month we will talk a lot more about mental health issues and awareness and will keep posted with support links.
Tips for Maintaining Good Mental Health
Maintaining good mental health is important for everyone, regardless of whether or not they are currently experiencing mental health issues. Here are some practical tips for maintaining good mental health:
Practice self-care
Self-care refers to any activity that you do to take care of your physical, mental, or emotional well-being. This can include things like exercise, spending time in nature, meditation, reading a book, or taking a relaxing bath. Whatever it is that makes you feel good, make sure to prioritize it and make time for it regularly.
Stay connected
Social support is important for good mental health. Make sure to maintain close relationships with family and friends, and reach out for support when you need it. Joining a support group or online community can also be helpful.
Manage stress: Stress is a part of life, but chronic stress can be harmful to our mental and physical health. Practice stress-management techniques like deep breathing, yoga, or mindfulness meditation to help manage stress and prevent burnout.
Get enough sleep
Sleep is crucial for good mental health. Make sure to prioritize getting enough sleep each night (7-8 hours is recommended) and practice good sleep hygiene, such as avoiding screens before bedtime and creating a relaxing sleep environment.
Seek help when needed
If you are struggling with your mental health, don't be afraid to seek help. Talk to your doctor, a mental health professional, or a crisis hotline for support and guidance.
Mental health awareness month is an important time to raise awareness about the importance of mental health and encourage people to prioritize their mental well-being. Mental health issues can have a significant impact on our daily lives, but with awareness, support, and good mental health practices, we can improve our mental health and overall quality of life. Remember to practice self-care, stay connected, manage stress, get enough sleep, and seek help when needed. Let's work together to reduce the stigma surrounding mental illness and promote good mental health practices for all.
Some Good Reads on Mental Health and Awareness
1. The Body Keeps the Score: Brain, Mind, and Body in the Healing of Trauma by Bessel van der Kolk
This book explores the effects of trauma on the body and mind and offers strategies for healing and recovery. It has been widely praised for its compassionate and insightful approach to understanding trauma and its impact on mental health.
Reviews:
Fascinating, hard to put down, and filled with powerful case histories. . . . the most important series of breakthroughs in mental health in the last thirty years ― Norman Doidge, author of The Brain That Changes Itself
A gripping bestseller about where trauma goes, and its disastrous effects on both individuals and societies. Deeply interesting. – The Times
A seminal book that outlines the author's pioneering work – Thea Jane May ― Vogue
Incredible – William Leith, 'Books of the Year' ― Evening Standard
Draws on 30 years of experience to argue powerfully that trauma is one of the West's most urgent public health issues… Packed with science and human stories … van der Kolk has a lot to say, and the struggle and resilience of his patients is very moving ― New Scientist
Everyone should read this book ― Nigella Lawson
---
2. Lost Connections: Uncovering the Real Causes of Depression – and the Unexpected Solutions by Johann Hari
This book offers a new perspective on depression, arguing that it is often rooted in social and environmental factors rather than solely in brain chemistry. It has received acclaim for its thought-provoking insights and practical advice on how to address the underlying causes of depression.
From the New York Times best-selling author of Chasing the Scream, a radically new way of thinking about depression and anxiety. 
Reviews:
If you have ever been down, or felt lost, this amazing book will change your life. Do yourself a favour – read it now ―  Elton John
A brilliant, stimulating, radical take on mental health ― Matt Haig
Lost Connections offers a wonderful and incisive analysis of the depression and alienation that are haunting American society ― Hillary Rodham Clinton
Wise, probing and deeply generous Hari has produced a book packed with explosive revelations about our epidemic of despair … I am utterly convinced that the more people read this book, the better off the world will be ― Naomi Klein
It's brilliant for anyone wanting a better understanding of mental health ― Zoe Ball, Stylist
Coupling diverse personal narratives with an intense investigation into the failings of Western society to better connect us all … I strongly believe that what Hari has created may be one of the most important texts of recent years. The book gives a voice to those who cannot speak and hands them a megaphone to vibrate the monolithic towers of the antidepressant drug industries. It teaches that through community, through social and natural connection, and through understanding, depression can be tackled via alternative means ― British Journal of General Practice
---
3. An Unquiet Mind: A Memoir of Moods and Madness by Kay Redfield Jamison
This memoir offers a personal account of living with bipolar disorder and has been praised for its honesty and vulnerability. It provides a powerful glimpse into the experience of mental illness and the challenges of navigating the healthcare system while seeking treatment.
Reviews:
An invaluable memoir of manic depression, at once medically knowledgeable, deeply human and beautifully written . . . Unashamedly honest ― New York Times Book Review
Rises to the poetic and has a mystical touch . . . a courageous and fascinating book, a moving account of the life of a remarkable woman ― Daily Telegraph
Jamison's [strength] is the gutsy way she has made her disease her life's work and in her brilliant ability to convey its joys and its anguish . . . Extraordinary ― Washington Post
Harrowing reading but the writer has the wit and the soul of a poet ― The Economist
Affecting, honest, touching ― Will Self
It stands alone in the literature of manic depression for its bravery, brilliance and beauty ― Oliver Sacks
---
4. The Noonday Demon: An Atlas of Depression by Andrew Solomon
This book explores the experience of depression, drawing on the author's own struggles with the condition as well as interviews with others who have lived with it. It has been acclaimed for its compassionate and comprehensive approach to understanding depression and its impact on individuals and society.
Reviews:
"The Noonday Demon is the ideal and definitive book on depression. There is nothing falsely consoling about this account, which is the opposite of a bromide, unless to be accompanied by so much intelligence and understanding is a consolation in itself." ― Edmund White, author of A Boy's Own Story and The Flaneur
"The book for a generation. . . . Solomon interweaves a personal narrative with scientific, philosophical, historical, political, and cultural insights. . . . The result is an elegantly written, meticulously researched book that is empathetic and enlightening, scholarly and useful. . . . Solomon apologizes that 'no book can span the reach of human suffering.' This one comes close." ― Christine Whitehouse, Time
"Both heartrending and fascinating . . . the book has a scope and passionate intelligence that give it intrigue as well as heft." ― Gail Caldwell, The Boston Globe
"Everyone will find a piece of himself in Solomon's account, even if he has been spared the experience of watching that kernel blossom into a monstrous and strangling plant. . . . Solomon shows bravery and rigor." ― Christopher Caldwell, Slate magazine
"Compulsively readable, harrowing, and helpful, The Noonday Demon is an act of redemption in an epidemic of sorrow." ― Louise Erdrich, author of Love Medicine and The Antelope Wife
"Solomon's done his homework . . . smart, lucid, and sometimes intensely moving." ― David Gate, Newsweek
---
5. Maybe You Should Talk to Someone by Lori Gottlieb
This book is a memoir that explores the author's experience as both a therapist and a patient. Through a series of compelling stories and reflections, Gottlieb offers insights into the human experience of seeking and providing mental health treatment. It has been praised for its engaging and relatable writing style, and for its ability to demystify the therapeutic process and promote greater empathy and understanding for those struggling with mental health issues.
Reviews:
"Some people are great writers, and other people are great therapists. Lori Gottlieb is, astoundingly, both. Maybe You Should Talk to Someone is about the wonder of being human: how none of us is immune from struggle, and how we can grow into ourselves and escape our emotional prisons. Rarely have I read a book that challenged me to see myself in an entirely new light, and was at the same time laugh-out-loud funny and utterly absorbing."
― Katie Couric 
"If you have even an ounce of interest in the therapeutic process, or in the conundrum of being human, you must read this book. It is wise, warm, smart and funny, and Lori Gottlieb is exceedingly good company."
― Susan Cain, New York Times best-selling author of Quiet: The Power of Introverts in a World that Can't Stop Talking 
"Gottlieb is an utterly compelling narrator: funny, probing, savvy, vulnerable. She pays attention to the small stuff — the box of tissues and the Legos in the carpet — as she honors the more expansive mysteries of our wild, aching hearts."
― Leslie Jamison, author of The Recovering: Intoxication and its Aftermath
"Therapists play a special and invaluable role in the lives of the 30 million Americans who attend sessions, but have you ever wondered where they go when they need to talk to someone? Veteran psychotherapist and New York Times best-selling author Lori Gottlieb shares a candid and remarkably relatable account of what it means to be a therapist who also goes to therapy, and what this can teach us about the universality of our questions and anxieties."
― Thrive Global, "10 Books We Can't Wait to Read in 2019"
"Maybe You Should Talk to Someone is ingenious, inspiring, tender, and funny. Lori Gottlieb bravely takes her readers on a guided tour into the self, showing us the therapeutic process from both sides of the couch–as both therapist and patient. I cheered for her breakthroughs, as if they were my own! This is the best book I've ever read about the life-changing possibilities of talk therapy."
― Amy Dickinson, "Ask Amy" advice columnist and New York Times best-selling author of Strangers Tend to Tell Me Things
"I was sucked right into these vivid, funny, illuminating stories of humans trying to climb their way out of hiding, overcome self-defeating habits, and wake up to their own strength. Lori Gottlieb has captured something profound about the struggle, and the miracle, of human connection."
― Sarah Hepola, New York Times best-selling author of Blackout: Remembering the Things I Drank to Forget
You may also like to Read:
The Benefits of Practicing Yoga: Improve Mind, Body, and Spirit
How to Improve Sleep Quality Naturally: Tips for Beating Insomnia
The Fascinating Science of Mitochondria: The Powerhouses of the Cell
We are sorry that this post was not useful for you!
Let us improve this post!
Tell us how we can improve this post?